A celebration was held on Wednesday 31st January 2018 to showcase the achievements of a new programme that rejuvenated a Community Centre Garden and gave people over the age of 25 new skills. At the event volunteers from Groundwork North Wales' Task Team programme celebrated their hard work at the Fron Goch Gardening Centre, Caernarfon.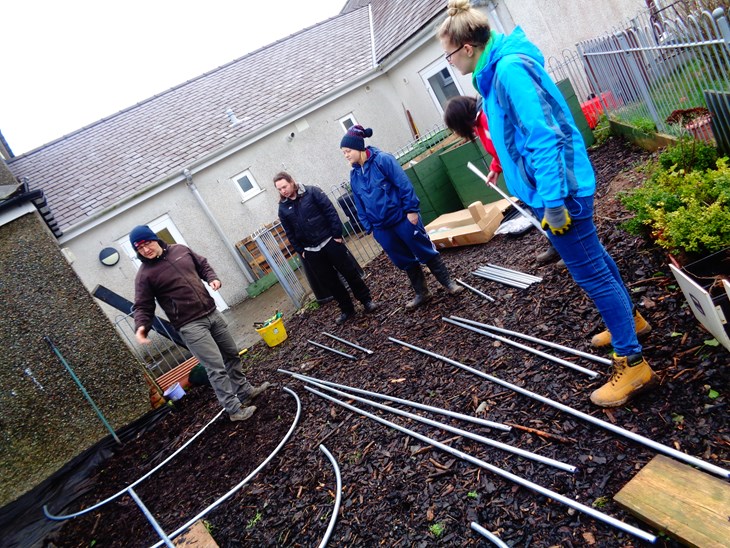 Task Team is a new initiative supported by the European Social Fund through the Welsh Government Innovation Fund for people over 25 years old living in a Communities First cluster. Groundwork North Wales is running the project along with their partner Communities for Work.
The volunteers who signed up for Task Team put in over213volunteering hours into the 12 week project, spending two days a week learning new skills on an accredited course on volunteering and first aid, as well as tackling a practical project and making a difference to the local community by regenerating the outdoor space and garden at the Talysarn Community Centre. They created a wildflower border and planter for the communal area and cleared the garden at the rear by building a keyhole garden, raised beds and a polytunnel. They hope to plant flowers, vegetables and fruit to sell to the local community in the future.
The Task Team volunteers have gained new confidence, had new experiences and worked as part of a prosperous team, resulting in positive outcomes such as progressing onto new qualifications such as improved literacy skills and horticultural skills.
Ellen Williams, Project Manager at Groundwork North Wales said: "I'm immensely proud of the volunteers who joined us at the Talysarn Task Team. They have worked tirelessly and have plans to continue developing the garden for the use of the community. I wish them every success in their exciting venture!"
Sioned, a local to Talysarn, stated "being part of this project has made me want to make sure work in the garden continues and that the garden is made available to the residents of Talysarn. I hope to continue developing the space and find additional grants to allow us to continue the work we've started".