A celebration was held on Friday 19th January 2018 to showcase the achievements of a new programme that rejuvenated a community garden in Rhyl and gave people over the age of 25 new skills. At the event volunteers from Groundwork North Wales' Task Team programme celebrated their hard work at The Phoenix Centre in Rhyl.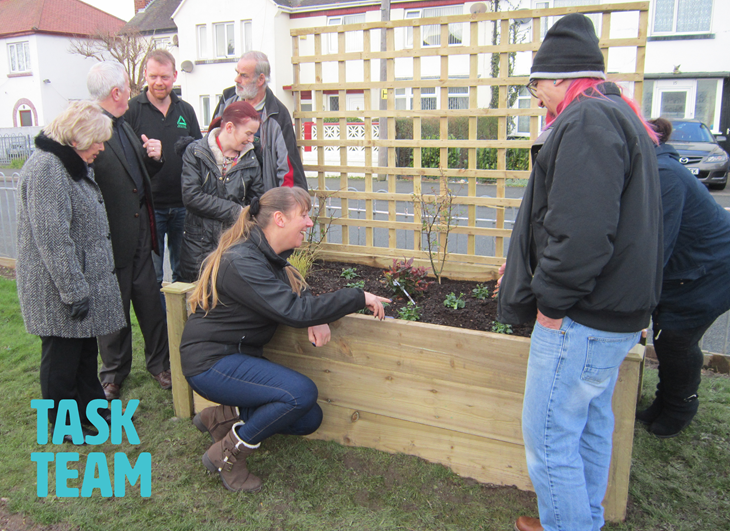 Task Team is a new initiative supported by the European Social Fund through the Welsh Government Innovation Fund for people over 25 years old living in a Community First cluster. Groundwork North Wales is running the project along with their partner Communities for Work.
The volunteers who signed up for Task Team put in over 420 volunteering hours into the 12 week project, spending two days a week learning new skills on an accredited course on volunteering and a Level 2 First Aid qualification. In addition, they tackled a practical project making a difference to the local community by regenerating a community garden and relaxation area. The area had been unusable but is now a community garden with seating, paths, raised beds, planting and trellis work making an attractive green space where the community can meet and relax.
The Task Team project ran by Groundwork North Wales has proven a success, with the volunteers gaining in confidence, learning new skills and working as part of a prosperous team, resulting in a number of positive outcomes such as progression to further volunteering programmes that make a difference to their local community. Groundwork would like to thank the Phoenix Centre for allowing them to use the facilities over the last 12 weeks.
Councillor Tony Thomas, Denbighshire's lead member for Housing, Regulation and the Environment, said: "The Council was delighted to be involved in such a great project by providing the garden.
"This project has not only helped participants gain new skills, but it has provided a real benefit to the local community as well. As a Council we would like to congratulate everyone involved."
Gary Bruffell, Green Skills Co-ordinator at Groundwork North Wales said: "I'm really proud of everyone involved in the project; they've all developed new skills and gained a lot of confidence which will only enhance their prospects of improving their chances in life and using the new skills they have learnt."
Wayne from Rhyl was keen to join the programme and soon took a lead role in the group acting as a mentor to younger members. He was keen to get back into employment and to go onto other volunteering programmes.
Wayne said, "I have loved every minute of the Task Team and have gained many new skills that I can now use on other projects or employment in the future."